Always available within one day.

All our signs are proudly Made in The U.S.A.
Printed with high quality inks on sturdy styrene.
Every iWave2 sign is protected against UV (ultra Violet) rays

for longer lasting, vivid colors.
Most Popular Signs:

Standard and Custom Waving vehicle signs sit on a suction cup with a spring,
so that it stays in constant motion while driving.
Your sign will be waving at your fellow roadway users.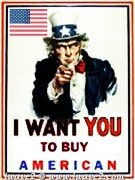 Visit our CONTACT US PAGE to send in your design!

Home | About Us | Contact Us | Terms and Conditions | Shop All | More Deals